Automatic Voltage Regulators in Kenya Case Study - PowerPoint Systems
Automatic Voltage Regulators
in Kenya
Project: Automatic Voltage Regulator for Petroleum Companies
Country: Kenya
Product: Automatic Voltage Regulators (AVR).
Petroleum companies are cutting energy costs and increasing operational efficiencyby
installing Automatic Voltage Regulators.
Complete Protection
for

Sensitive Fuel Pumps.
95% of all equipment failure is due to unreliable raw mains power. When your equipment fail, the downtime can be very costly. Your equipments' lifespan also becomes at risk when used on unreliable raw mains power. Our Automatic Voltage Stabilizer will clean the power to your equipment by removing Surges, Spikes, High Voltage, Low Voltage, Power Back Surge, Harmonics Power Interference, Radio Frequency Interference (RFI) and Lightning Surge. Thus allowing your equipment to work smoothly with the right power supply with a correction of +/-1% linear supply.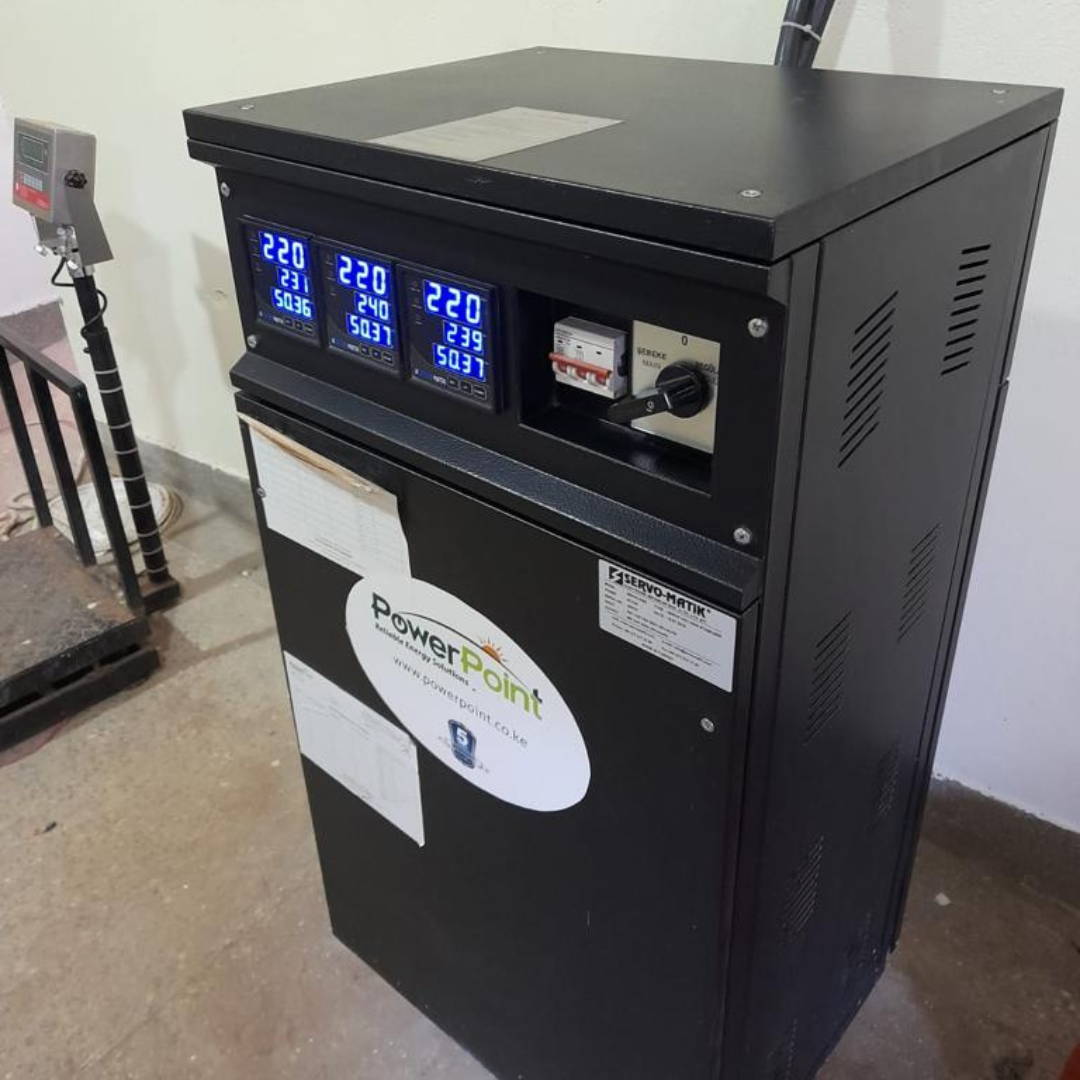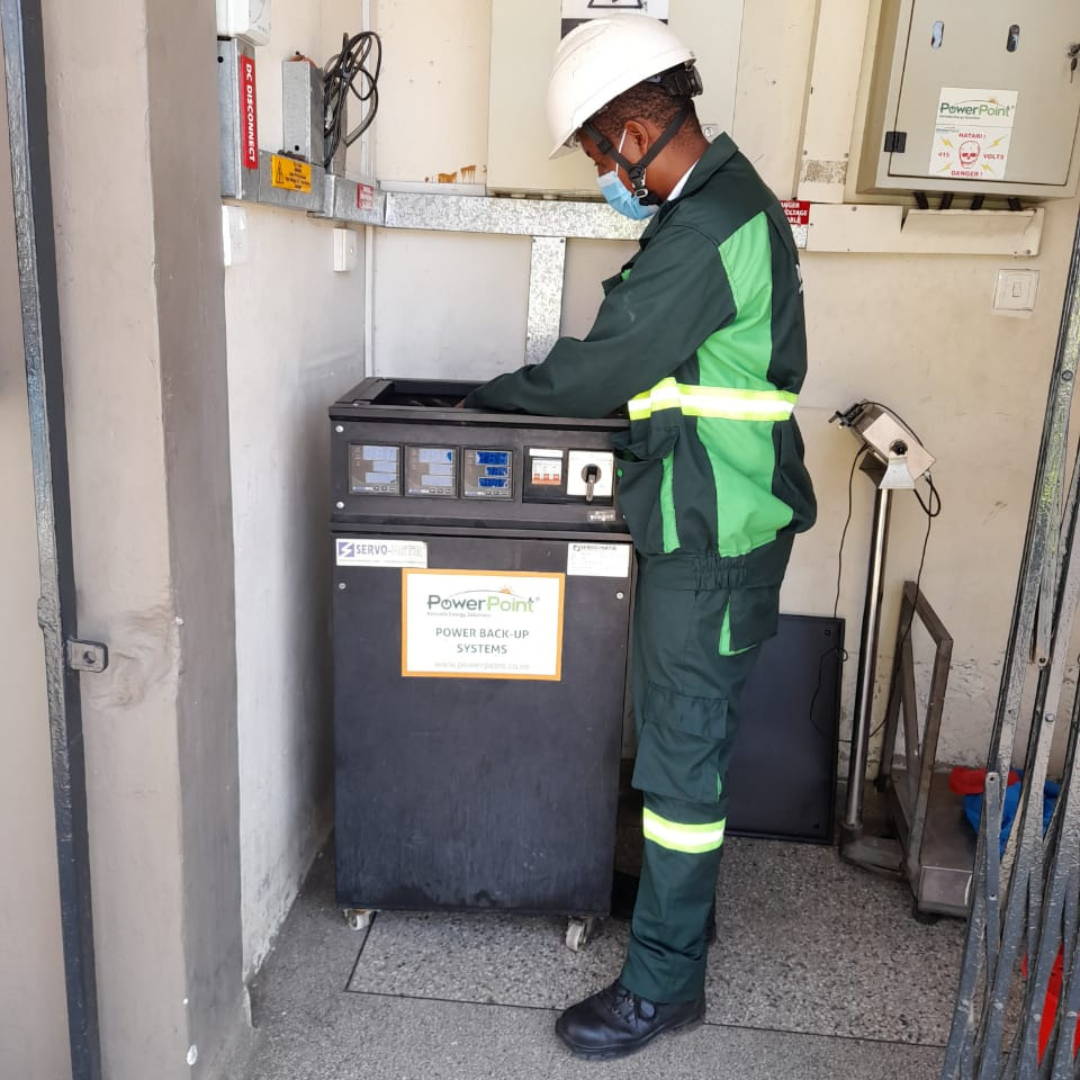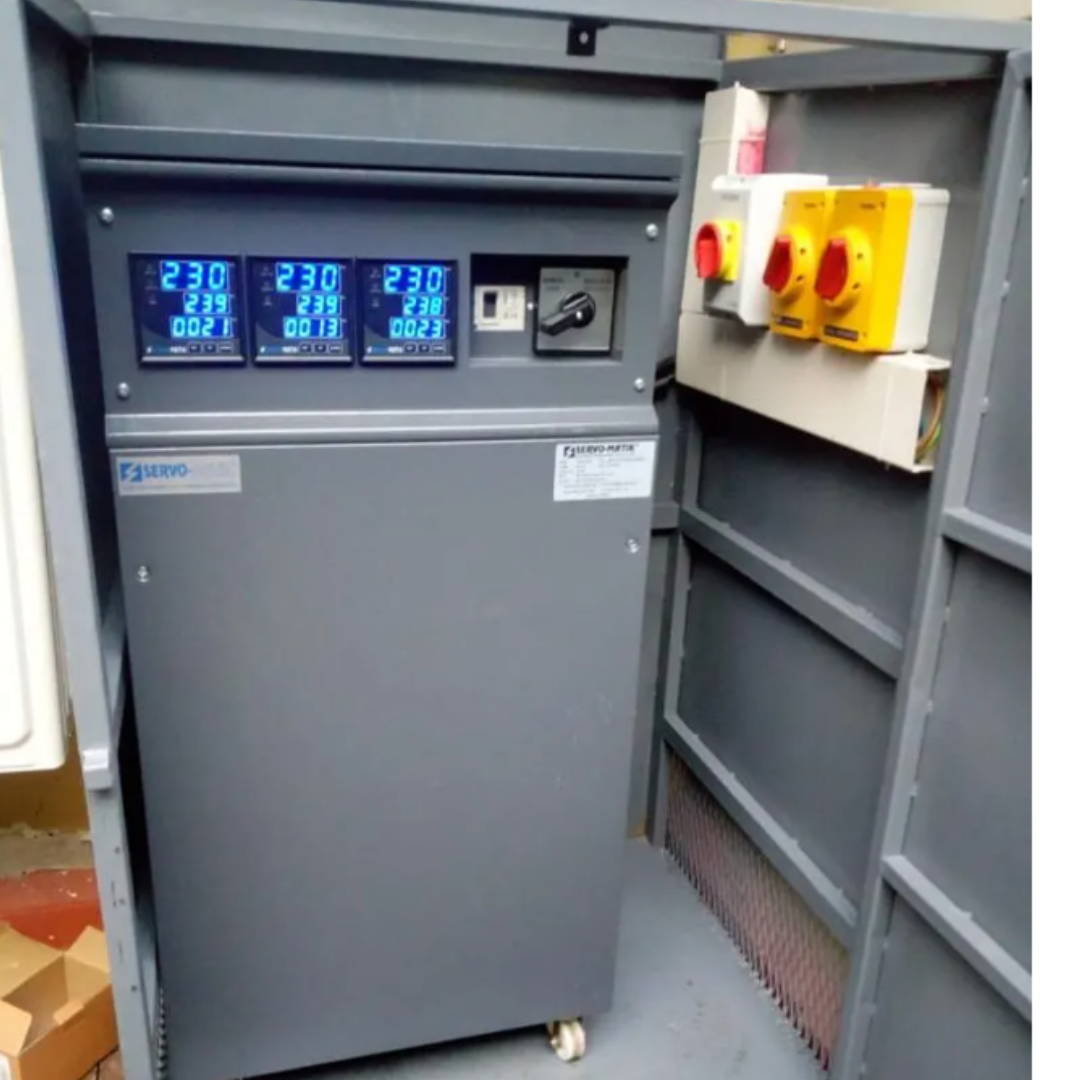 We were approached by a leading petrol company in Kenya with over 100 stations all over the country to protect their sensitive electronic controlled fuel pumps. The main aim was to protect equipment from unreliable raw mains power and to achieve fulltime running with minimum use of costly backup diesel generators.
PowerPoint Systems engineers partnered with engineers from Servomatic in Turkey to develop an
AVR that can work in the East African market.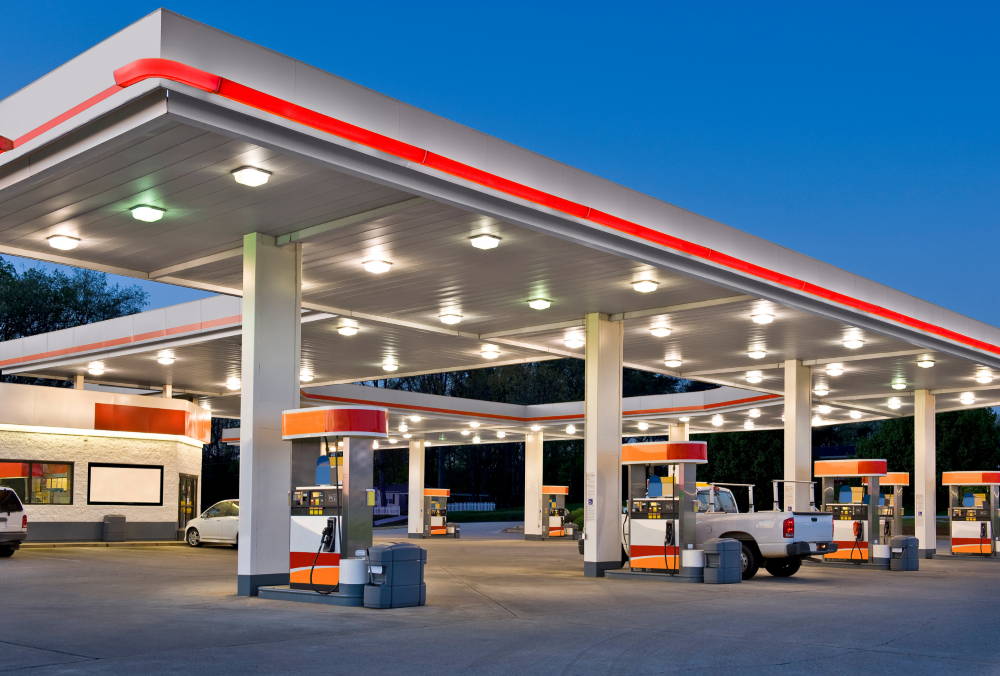 Features of the Automatic Voltage Regulator
The Servomatic AVR is designed specifically for this market, to deal with the high level of protection required for critical applications and for equipment that require a higher level of surge, spike, & noise protection.
In addition, the AVR features:
-Green Design
- High Efficiency With Energy Saving
- Compact, Light And Quiet Operation
- Service And Installation Facility
- Low Installation And Operation Cost
- 10 Years Spare Part Supply Guarantee
- 24/7 Technical Support and Customer Service
This unit regulates the supply voltage for over 100 petrol stations in Kenya. PowerPoint Systems is fully versed on the stringent HSE policies that are required in working in sensitive environments.
PowerPoint System engineers have a wealth of knowledge and experience in electrical installations and maintenance and that's why they were chosen by one of the leading Petrol Companies in Kenya.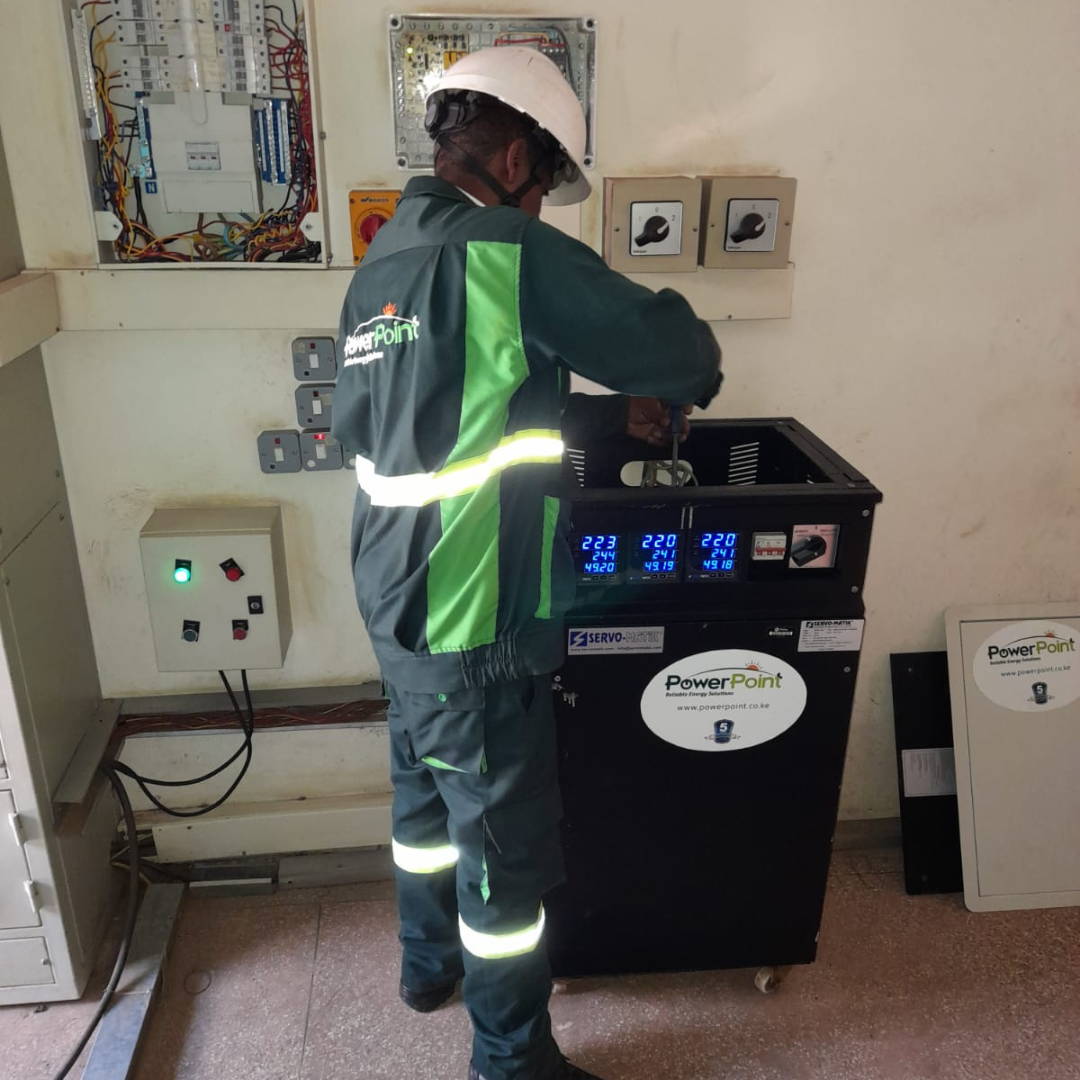 Benefits of the Automatic
Voltage Regulator
No more costly downtime due to unreliable power
One of the challenges faced by our client was prolonged and costly downtime due to damage to their fuel pumps caused by unreliable mains power. We installed our top of the range Voltage Regulators after which they have reduced their downtime (due to poor quality of power) to almost 0%.
To avoid expensive downtime or interruption of your operations and costly repairs, take a guaranteed insurance with a voltage stabilizer from PowerPoint Systems.
Helping you Adopt to Solar
in 3 Easy Steps
STEP 1: Consultation
We conduct a site visit in any location in Kenya and suggest the optimum solution, taking into account the direction of the roof, the exposure to the sun and other factors. Online monitoring is installed at the premises to monitor power usage before we recommend a system. This is to ensure maximum savings.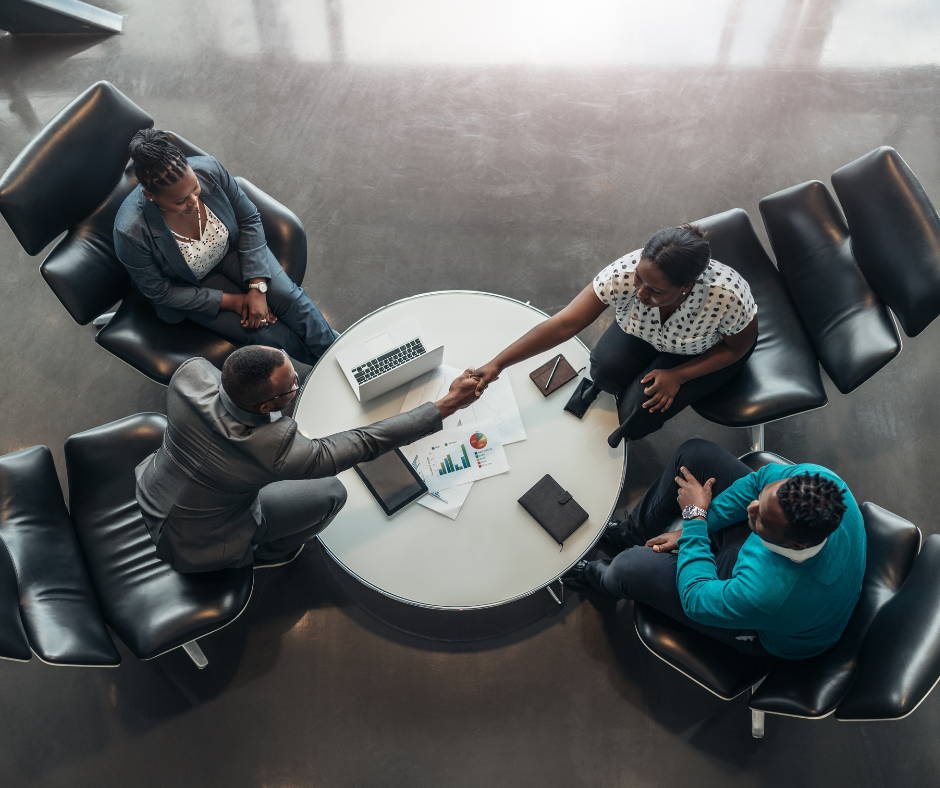 Cut down on high maintenance and fuel cost of generators.
The company was also losing a lot of money due to running generators when the power is unstable. Since most installations come with an automatic change over switch which monitors the mains power when it is outside the required limit, it calls in the generator thus there were cases when generators were running throughout thus bringing up fuel cost and maintenance cost of generators.
Once we installed the AVR, the maintenance and fuel cost of the generators has been brought down since they only run when there is no power. Diesel generator's runtime could be reduced from 24- hour operation to only 10–12 hours per day. This saves a company at least $18,000 per annum on fuel costs, the AVR paying for itself in a very short time.
Environmentally Friendly
Additional benefits of an AVR from PowerPoint Systems include silent, fume-free running for much of the day, in contrast to the constant high noise levels experienced previously. The AVR will also help reduce carbon emissions (by reducing the running time of generators) therefore making it a more environmentally friendly solution for unreliable mains power.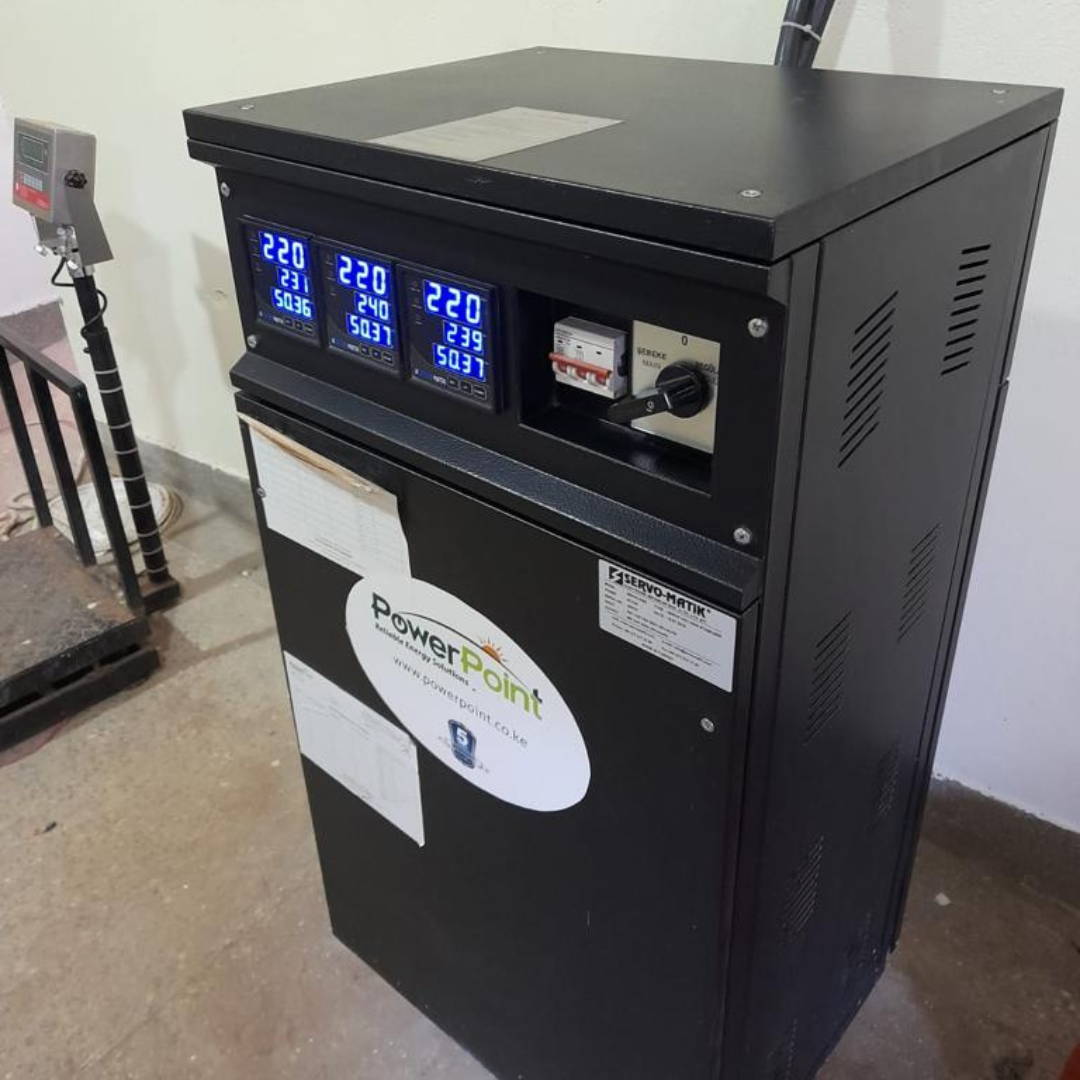 PowerPoint Systems installs automatic voltage regulators for institutions all over East Africa. Please fill out the form below to request a site survey or to request for more information.
2 Megawatt Grid-tie Installation at Two Rivers Mall, Nairobi.
It currently stands as the biggest Grid Tie System in East and Central Africa. Over 4500 Solar Panels each of 240 watts installed and over 40 Grid Tie Inverters Installed
This not only allows the mall to cut down on energy costs and save money, but it is also extremely environmentally friendly.
Installed and commissioned by PowerPoint Systems.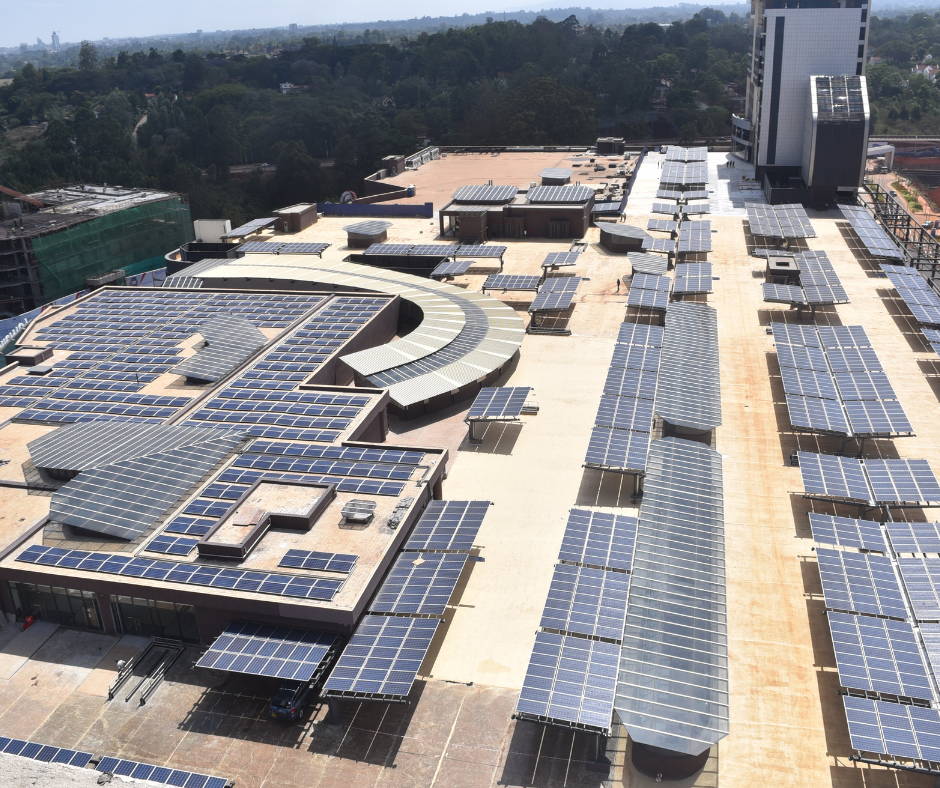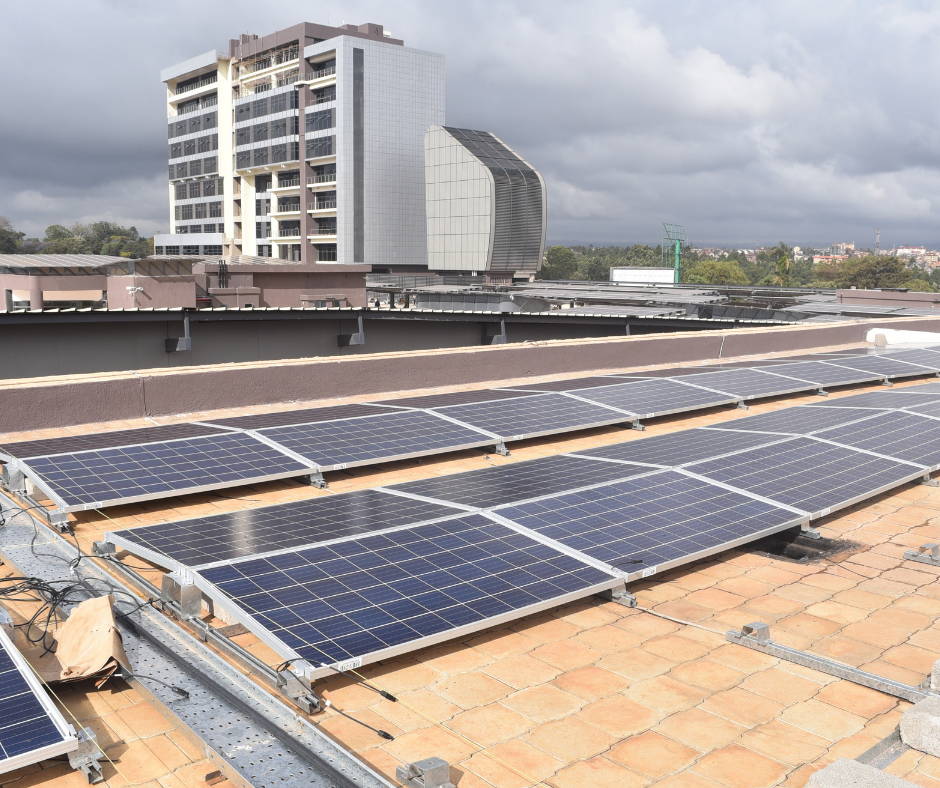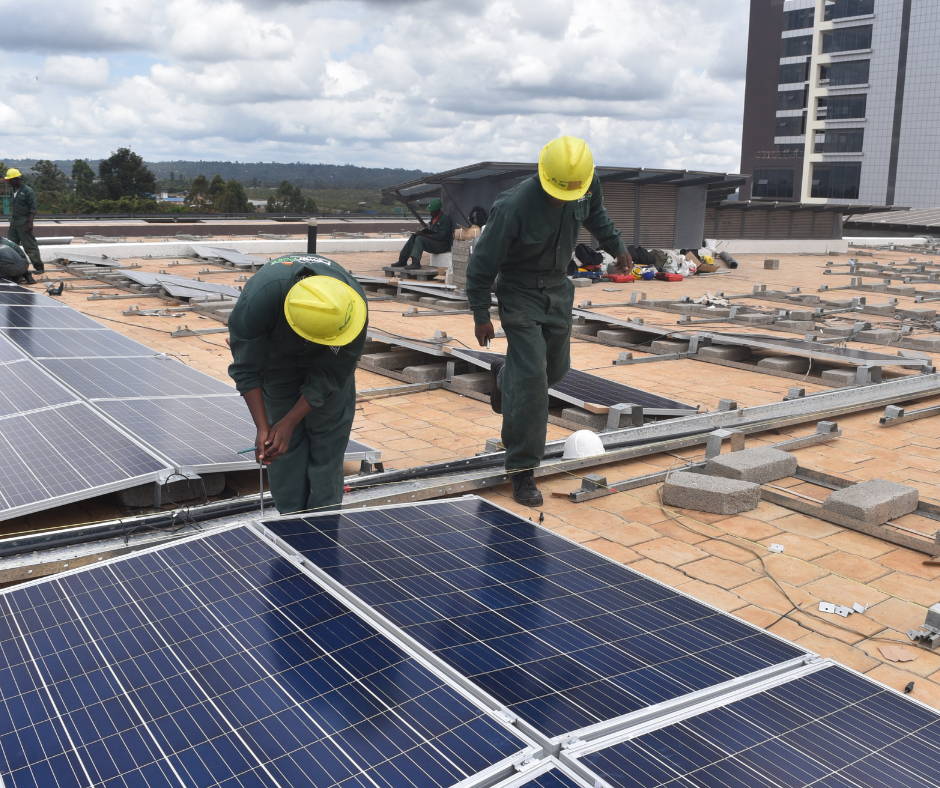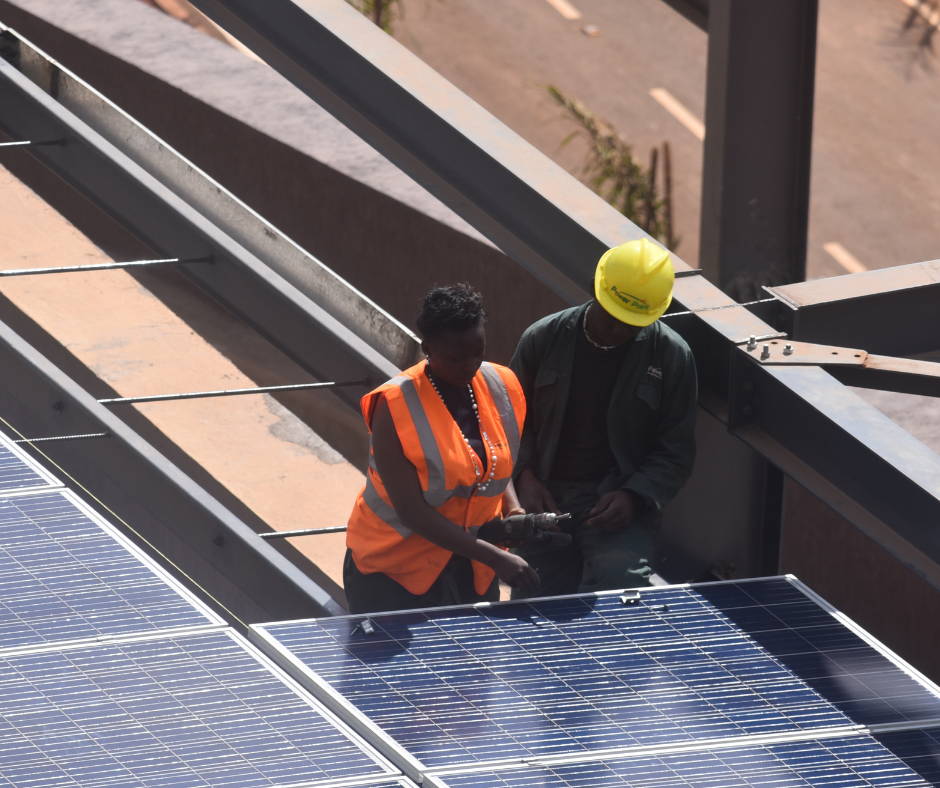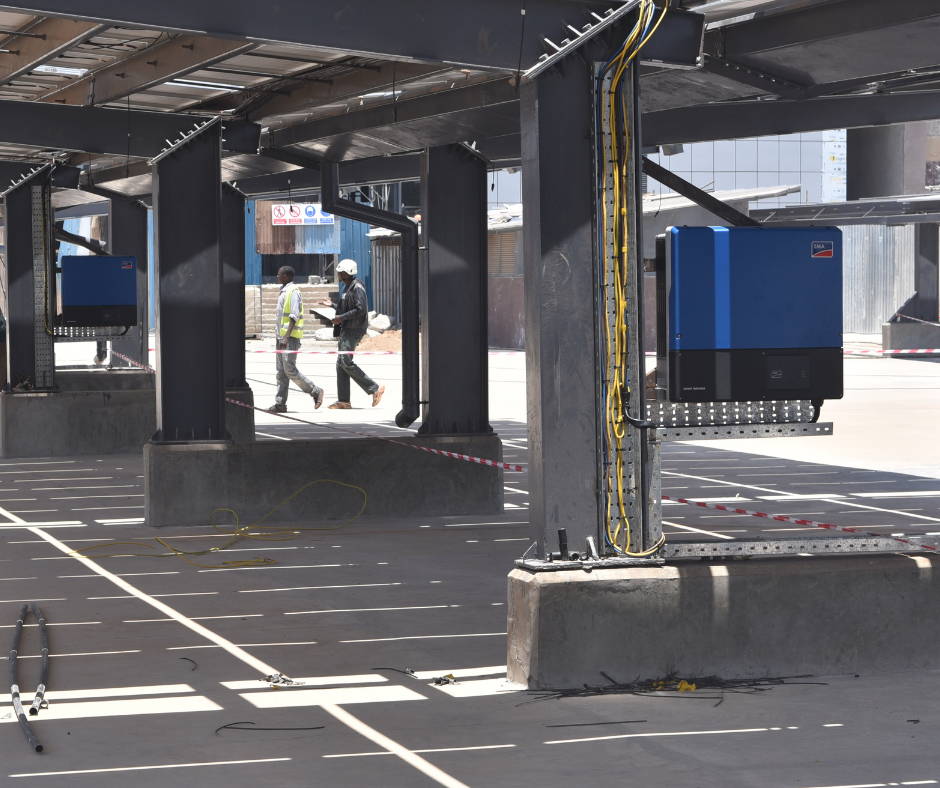 Why Choose PowerPoint Systems?
At PowerPoint, we guide you through the entire process, providing transparent and honest advice about what you need and how to go about it. We will design a high quality solution that is built around your specific energy needs and our own highly qualified technicians will install it, protecting your home/business at every stage.
We strive to have a long-term relationship with our clients by offering the bestafter-sales services. We offer you a complete Annual Maintenance contract to look after your solar system (this is free of charge for one year after installation) and includes a 24 hour centralized online monitoring system and 24/7 customer care. We offer guaranteed warranties of up to 25 years!
We pride ourselves in having over 20 years of experience in the industry, over10,000 systems installed and a team of highly qualified and dedicated engineers, technicians and electricians. You can trust that you are in good hands.
Above all, we know that good customer service builds a loyal customer. This is why we always prioritize our customer experience. We always strive to exceed your expectations with our products and services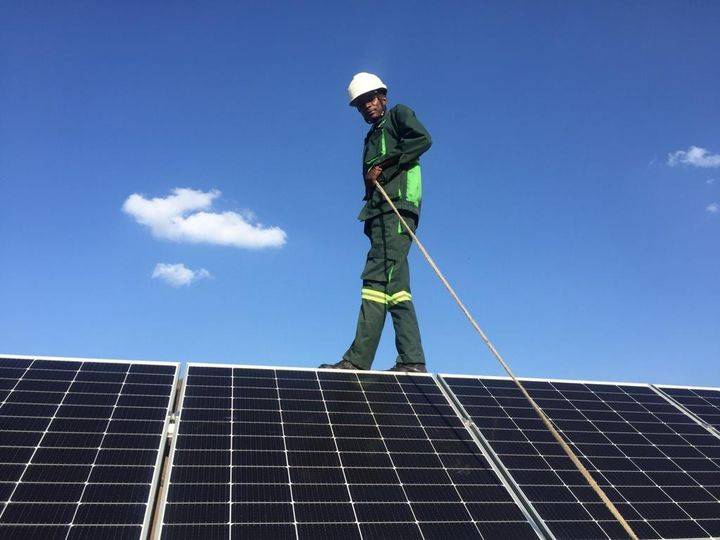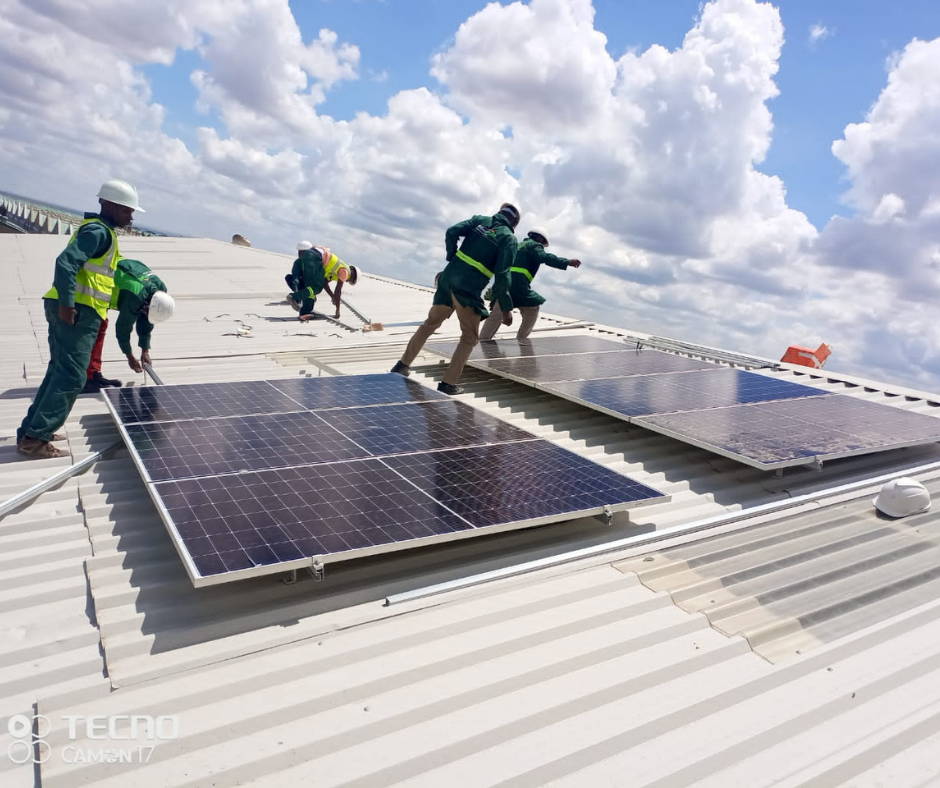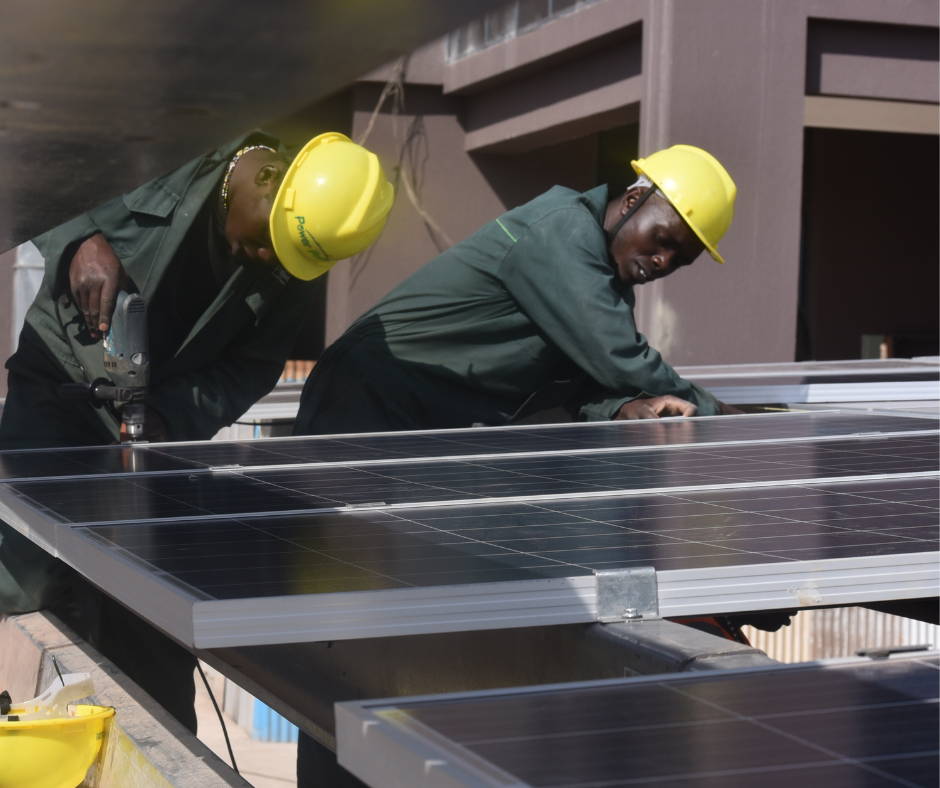 How much could you save with an AVR?
Talk to our Team
Our friendly, knowledgeable team are here to answer all your questions.