Schneider EVlink Smart Wallbox
The connected EV charging station for smarter charging
Ideal for semi-public parking facilities, corporate EV fleets, and apartment complexes, EVlink Smart Wallbox offers energy metering capabilities plus the connectivity you need to ensure user authentication, generate reports, allocate costs to individual users, and perform remote maintenance. Everything you need to make EV charging easier than ever to manage!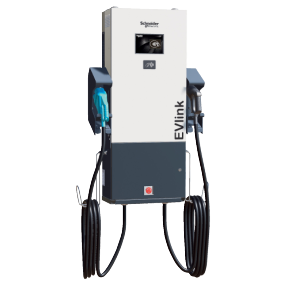 Features
Features

- Maximum charging current adjustable from 8 A to 32 A, In 1-Ph (up to 7.4 kW) or 3-Ph (up to 22 kW)

- Connectivity to EV : T2 socket outlet with or without shutters, or attached cable with T1 or T2 connector

- Attached cable length : 4.5m

- Key lock or RFID card reader

- Energy management capabilities : deferred charging, charging pause and charging current limitation

Power supply network

- 220-240V single-phase – 50/60Hz for a maximum charging power of 7.4 kW

- 380-415V three-phase – 50-60Hz for a maximum charging power of 22 kW*

(*except for attached cable T1, limited to 7.4 kW)

Connection to the cloud

- 3G/4G modem

- Wired Ethernet

- OCPP 1.6

Mechanical and environment characteristics


- Ingress protection : IP54

- Impact protection : IK10

- Operating temperature : -30°C to +50°C

- Storage temperature : -40°C to °80°C

Warranty

- 24 months for the entire EVlink offer


Benefits
Extensive choice

- High rated charging power with derating capability to meet the requisite power while anticipating futur needs for higher power for larger battery capacities.

- Free access, key locking, or user authentication.

Flexible charging solution

- Standalone operation, or operation in cluster with load management (see EVlink Load Management System)

- Possible connection to a charge point operator backend through OCPP protocol

Management of charging sessions and charging assets

- Charging logs availability

- User access management

- Remote maintenance

Energy management

- Ability to be interfaced with local or cloud-based energy management

- Seamless adaptation of the delivered charging power to the available power supply

- Charging postponement to off-peak hours

Easy to use


- "Plug & charge" simplicity

- Optional one-touch stop/restart

- Light indicator of charging status

Robustness

- Suitable for tough environment


Applications
Semi-public car parks

For charging point operators seeking a cost-effective shared-usage solution offering user authentication and charge detail records.

Corporate EV fleets

For corporate fleet managers and car leasers seeking a high-uptime solution offering reporting (at work) and cost allocation for easy reimbursement of expenses (at employees' homes).

Apartment complexes


For property managers and residents seeking a solution with energy management and cost allocation capabilities.