In Kenya, power distribution and availability of uninterrupted power supply is a major issue. PowerPoint Systems will install a power back-up system for you so you can say goodbye to inconveniences caused by power cuts for good!
For a customized quote, please fill out the form below and we will get back to you within 24 hours.
Home Power Backup Solution
Many homes in Kenya are affected by the unreliable power supply and constant power cuts.
PowerPoint Systems will install a power back-up system for you so you can keep your refrigerator and freezer running to keep food from going bad, keep your family safe by keeping your security lights and fence alarm on during power cuts, continue with your zoom meetings, laptop charging, phone charging to avoid losing any business, continue watching tv and enjoying your entertainment and your kids will happily do their homework without struggling to see their textbook.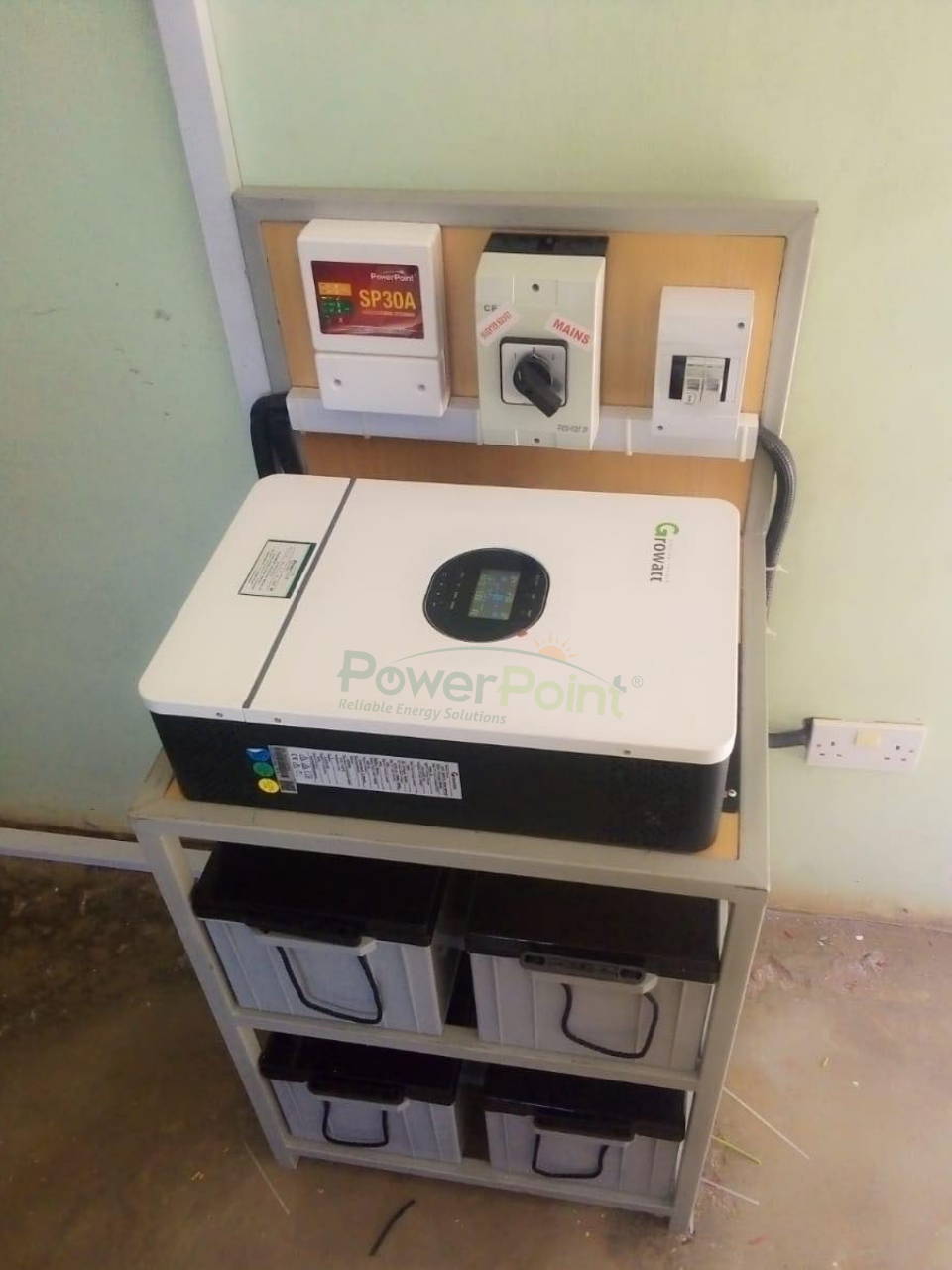 Example of A Home Inverter Power Back-up Solution installed by PowerPoint Systems.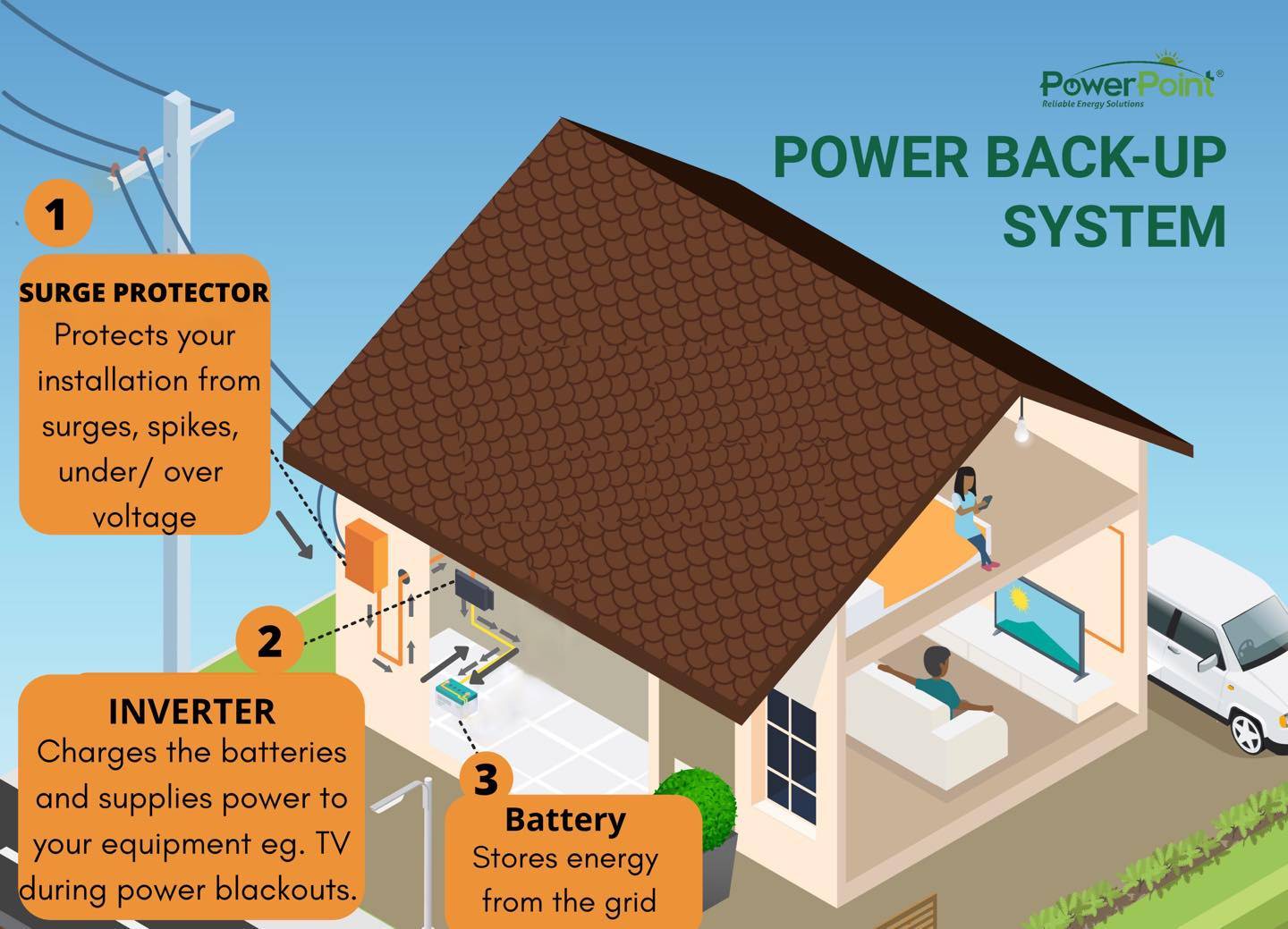 A backup system is a means of storing power to use when you don't have power (during blackouts). By the use of an inverter charger and storage batteries. the system will store energy in the storage batteries which will be converted into power when there is no power through the inverter. All this is done seamlessly through the intelligent inverter system.
We offer this service to make sure your home/ business never experiences any power downtime. With a power backup you will continue operating uninterrupted by power blackouts. Stay connected throughout by using PowerPoint back-up system.
How Does an Inverter Power Back-up Work?
1. 𝗦𝘂𝗿𝗴𝗲 𝗣𝗿𝗼𝘁𝗲𝗰𝘁𝗼𝗿

Electricity from KPLC flows into the surge protector which monitors if it's ok. This way, it protects your installation from surges, spikes & under/ over voltage.
2. 𝗜𝗻𝘃𝗲𝗿𝘁𝗲𝗿
If the electricity is ok, it flows into the inverter
The inverter does 2 things;
1. It charges the battery
2. when there is a blackout, it changes the energy it has stored in the battery and inverts it (from Direct Current to Alternate Current) to supply your load i.e TV, fridge etc).
3. 𝗕𝗮𝘁𝘁𝗲𝗿𝘆
Stores power from the grid.
How Much does a Power Backup System Cost?
A power backup system comes in different sizes and prices depending on your load profile (the equipment you want to power) and for how many hours per day (this would normally depend on how long your blackouts last).
For a customized quote, please fill out the form above and we will get back to you within 24 hours.
Office Power Backup Solution
We provide and install complete business power backup solutions that will prevent interruption of your business by blackouts. Blackouts that last several hours are not preferred especially since a company's performance depends on the quality and continuity of its power supply.
PowerPoint Power backup systems will provide 24/7 backup. You won't even realize that there is a blackout because your desktops computers, laptops, CCTV, routers, everything will continue running as usual.
Why Should you Choose the Inverter Power Back-up?
Here are 4 reasons why you should use an
𝗜𝗻𝘃𝗲𝗿𝘁𝗲𝗿 𝗕𝗮𝗰𝗸𝘂𝗽 𝗦𝘆𝘀𝘁𝗲𝗺 to keep your TV, lights, Fridge, laptop etc running even when there is a blackout.
The inverter system is;
✅ 𝗘𝘅𝘁𝗿𝗲𝗺𝗲𝗹𝘆 𝗾𝘂𝗶𝗲𝘁- unlike a generator that wakes up the entire neighborhood when it starts running, our inverter system runs without making any noise.
✅ 𝗭𝗲𝗿𝗼 𝗺𝗮𝗶𝗻𝘁𝗲𝗻𝗮𝗻𝗰𝗲 𝗰𝗼𝘀𝘁- for a generator, you have to fuel and change the oil regularly, but our inverter system has no maintenance required. You only spend money one time to install it. That's it!
✅ 𝗦𝗲𝗮𝗹𝗲𝗱 𝗯𝗮𝘁𝘁𝗲𝗿𝗶𝗲𝘀- Our batteries do not gas so they are safe to install in an enclosed place like an apartment. Generators have to be stored outside which can be very inconvenient!
✅ 𝗬𝗼𝘂 𝗰𝗮𝗻 𝘀𝘁𝗮𝗿𝘁 𝘀𝗺𝗮𝗹𝗹- the inverter backup system can be tailor made to supply only the equipment you need to continue running during a blackout for a favorable cost to you!😉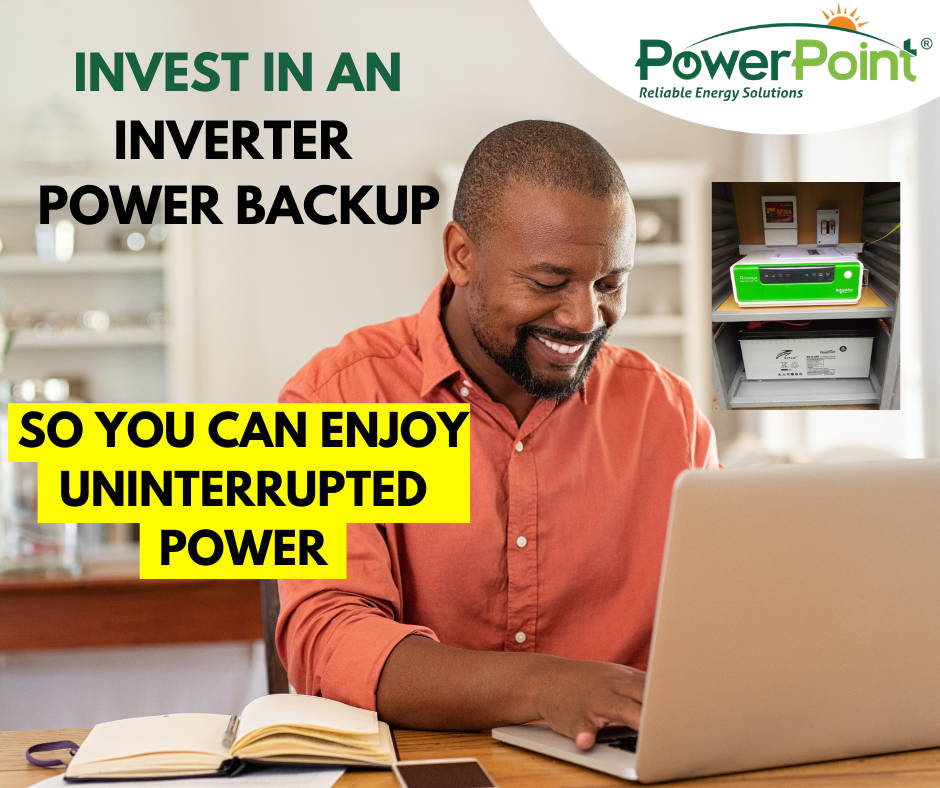 Here are other Home Power Backup Solutions installed by PowerPoint Systems